Minneapolis in 1894 was still a town on the edge of the prairie, with a population of 190,000 people. Nicollet Avenue was lit with gas lamps and paved with red cedar blocks.
Two young and ambitious retailers, Fred D. Young and Elizabeth Quinlan, conceived the daring idea of opening an exclusive shop for "ladies' ready-to-wear." At the time there was only one other store like that in the country, in New York City.
"Why should a good woman customer have to go down the street to the milliner's for a hat and some other place for her shoes?" asked Elizabeth Quinlan. "Why not sell her everything she needs right in one place, keep her trade, and specialize along these lines?"
On March 16, 1894, they opened Fred D. Young & Company, at 513 Nicollet Avenue, in the rear of the Vrooman Glove Shop.
The first day, they sold out of their entire inventory of coats, capes, mantles, wrappers and gloves. Clearly, it was a good partnership.
After a fire in 1903 destroyed the building, the company moved to 716–718 Nicollet Avenue and renamed the store, "Young Quinlan Company." At this time, the company was solely managed by Elizabeth Quinlan.
(With special thanks to Leo J. Harris)
Elizabeth Cecilia Quinlan (1863–1947)
looks upon her "Perfect Gem."
For over 60 years the Young Quinlan Building graced Minneapolis with its elegant brick and Kasota limestone exterior, its sweeping staircase of travertine marble, wrought iron balustrades, crystal chandeliers and cathedral windows.
But the years had taken its toll on Elizabeth Quinlan's "Perfect Gem," and many in the city were arguing that it was time to tear it down. That is, until Bob & Sue Greenberg, owners of The 614 Company, took control of the building in 1985, saving it from the wrecking ball.
"As a tenant in the Young Quinlan Building for nearly 20 years, I can say without reservation that there is no other office building like it in the Twin Cities. From valet service to the elevator operators to great views of Nicollet Mall, the historic charm of Young Quinlan is unmatched."
-- Russ Nelson, Principal/President, NTH, Inc.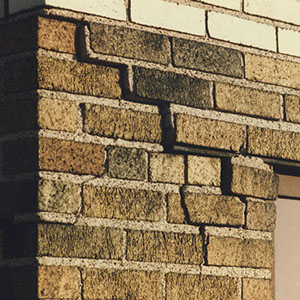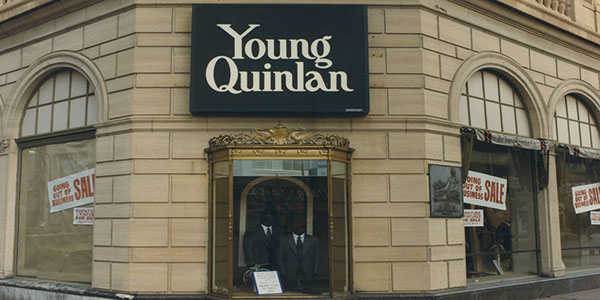 Typical condition of parking deck, circa 1985
Typical interior condition, circa 1985
Typical interior condition, circa 1985
Typical condition of building, circa 1985
Fifth-floor condition, circa 1985
Typical condition of staircases, circa 1985
The original 1926 Otis Elevator Company
door handles remain in place.
After extensive work, both inside and out, the Young Quinlan Building is ready for the 21st century.
The YQ logo, over 90 years old and as stylish as ever.